WGTF TOP 100 TEACHERS NOMINATIONS SOUGHT
The World Golf Teachers Federation determines its Top 100 Teachers every two years. We encourage all WGTF members to submit their nominations to be recognized for their great accomplishments.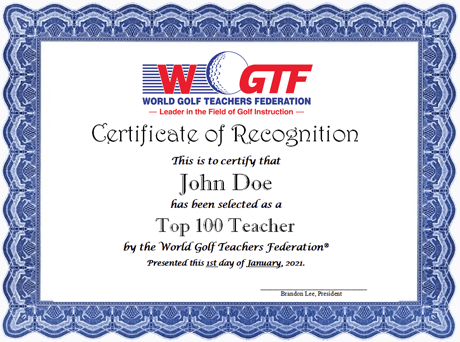 "Being named as a WGTF Top 100 Teacher is the highest honor one can receive from the World Golf Teachers Federation. The Top 100 list is posted for two years on the USGTF and WGTF websites as well as in the Golf Teaching Pro® Magazine. Your name will be shared with over 35,000 WGTF members around the world as a Top Level Golf Teaching Professional in the industry. Become part of this elite group and advance your career to achieve your goal by submitting your application today!" 
Factors leading to this determination include:
A minimum of five years full-time teaching experience as a WGTF member
Show individuality and uniqueness in teaching approaches
Involvement in their WGTF community, e.g., junior programs, free clinics, working with handicap individuals, etc.
The ability to write upon certain aspects of the golf swing and have them published
Participation in WGTF national and international events
A degree of TV and/ or radio golf commentary
Recommended by WGTF member nation's president

Materials of support should be included with any nomination. All nominations are reviewed by the WGTF advisory board and president prior to final selection.
The deadline for submission for nominations has been extended to Wednesday, September 30, 2020. The list will be announced in the Winter 2021 edition of Golf Teaching Pro.
Nominations should be sent to the WGTF headquarters at info@usgtf.com or to start the process by contacting 772-88-USGTF.
Nominations may also be submitted through regular mail at:
World Golf Teachers Federation
200 S. Indian River Drive, Suite 206
Fort Pierce, FL 34950